Essen Spiel 2017
A photo r
eport on this year's monster gaming convention in Essen, Germany
By Andrzej Cierpicki

I was fortunate to be able to attend this year's Essen Spiel, which is without doubt the largest boardgame show in the world. It is estimated that some 182,000 people attended the 4-day event, which attracted 1,021 exhibitors from 50 nations. I had twice attended the Origins game convention in the USA, but this was on a much larger scale, with six main halls housing hundreds of stands and gaming areas. It was also an opportunity to catch up with two ex-HKSW members, Nick, who had travelled from Luxembourg, and Eric, who had travelled up for the day from near Bonn.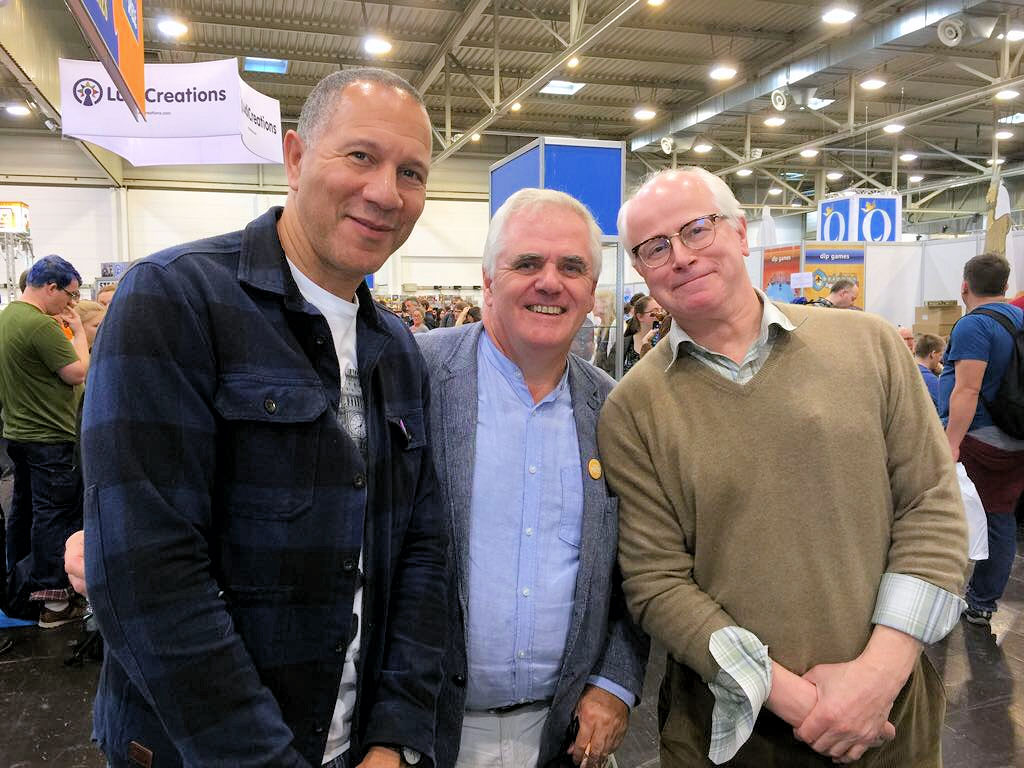 That's me in the centre, on the second day, flanked by Nick and Eric
Whilst primarily a Euro-game affair, there was nevertheless a healthy wargaming presence, including boards and miniatures. There was opportunity to partake in gaming, both new and forthcoming releases, but unlike Origins and other shows, there was no area set aside for casual gaming, which was a pity.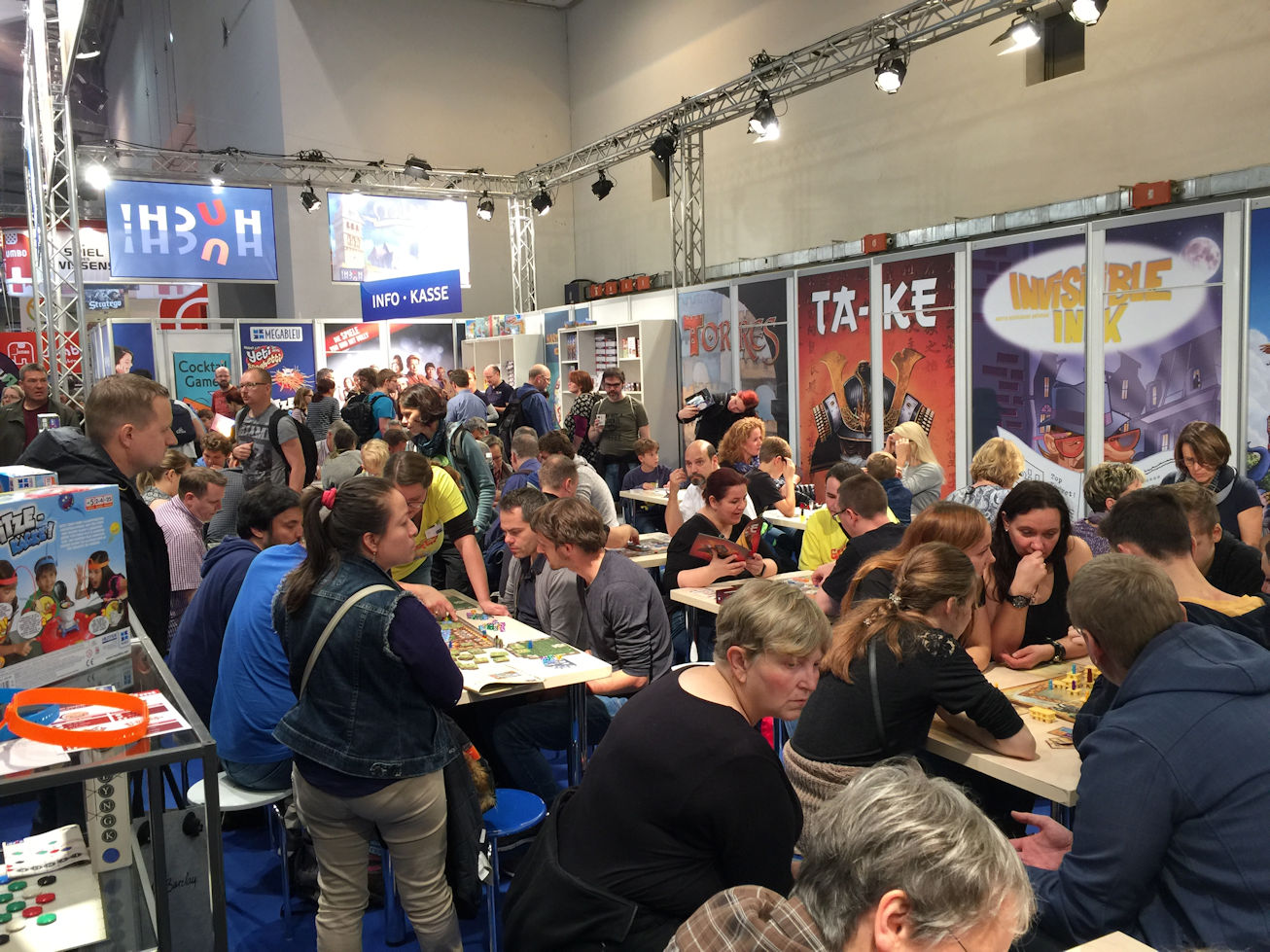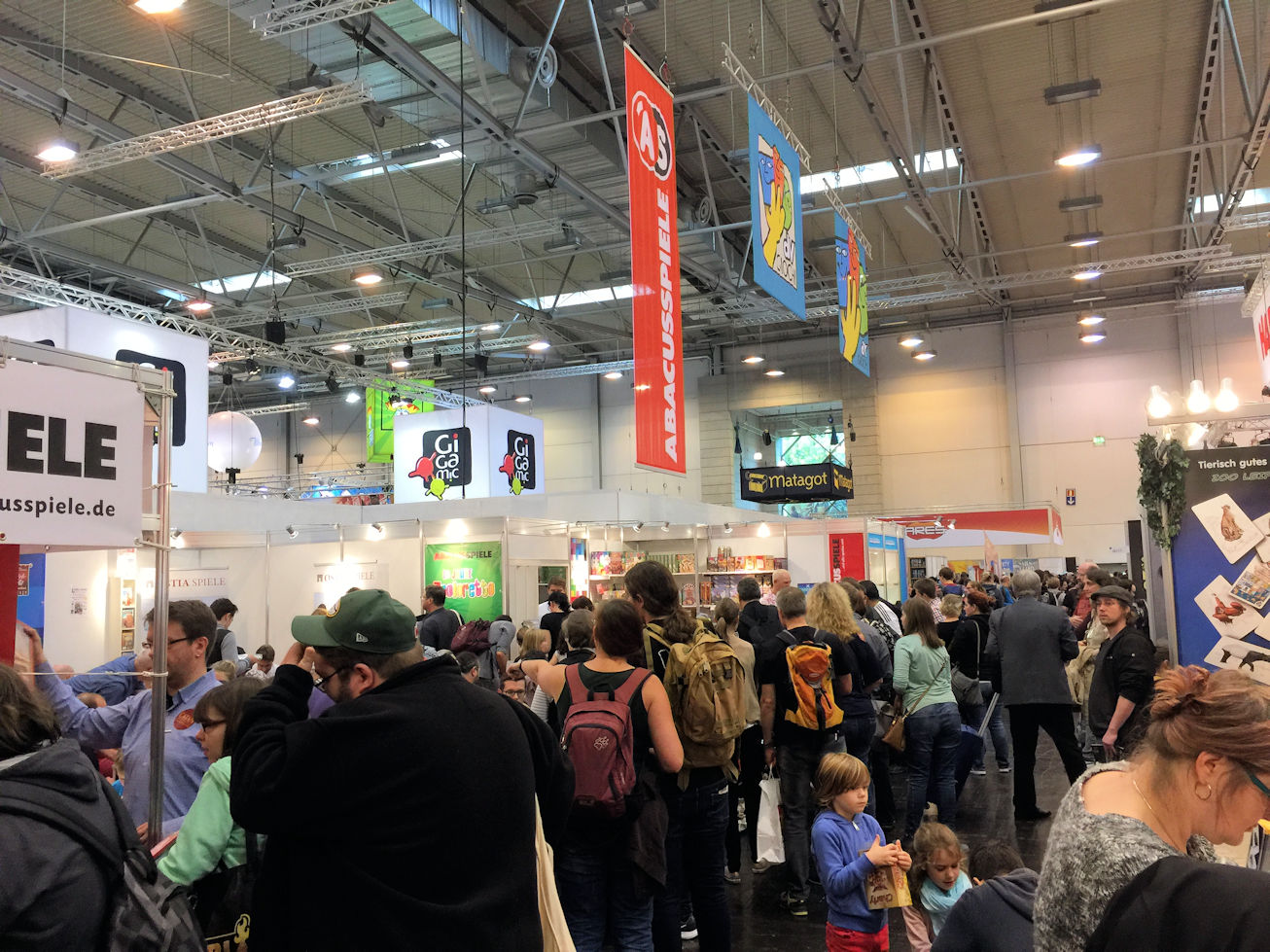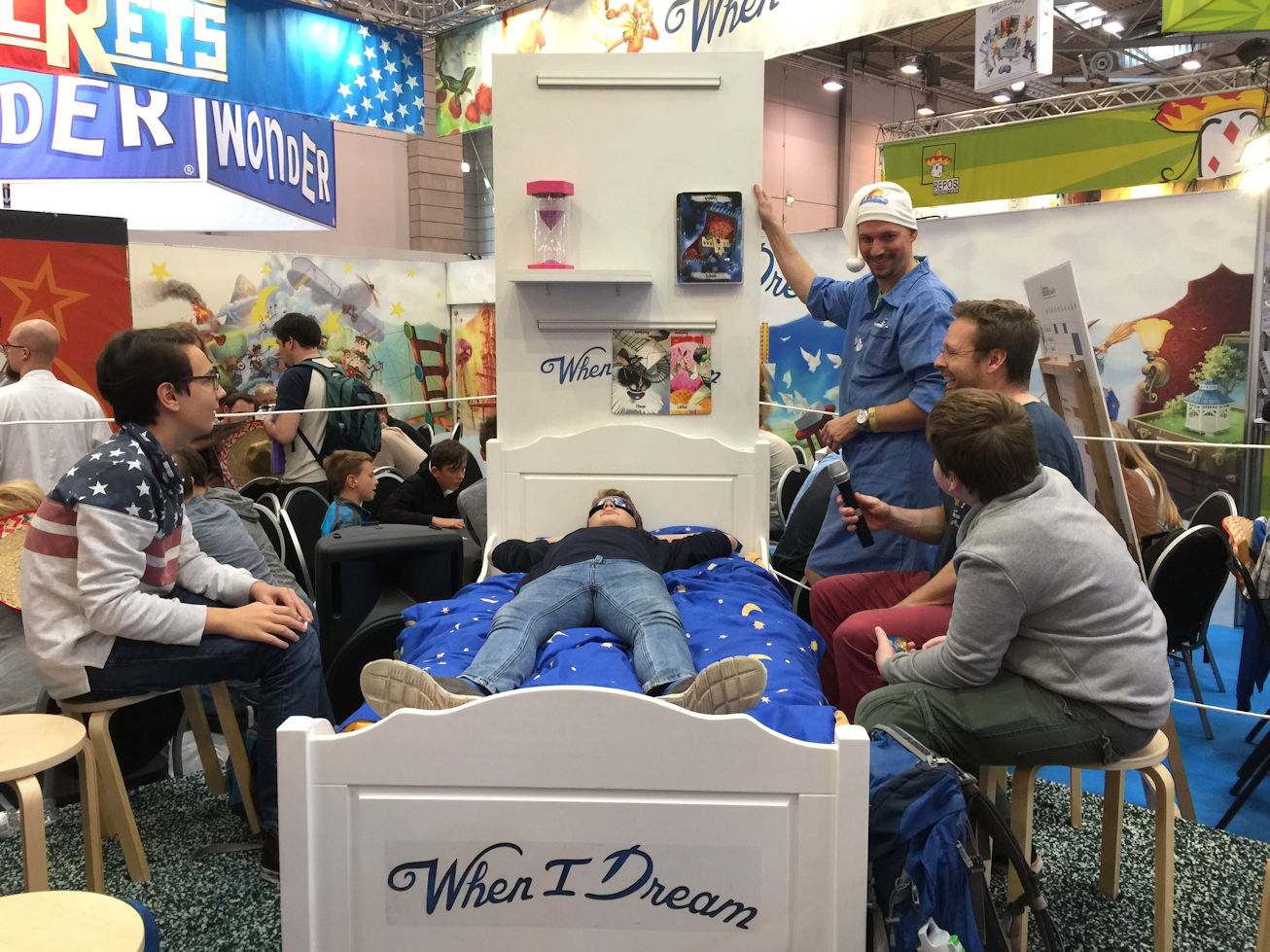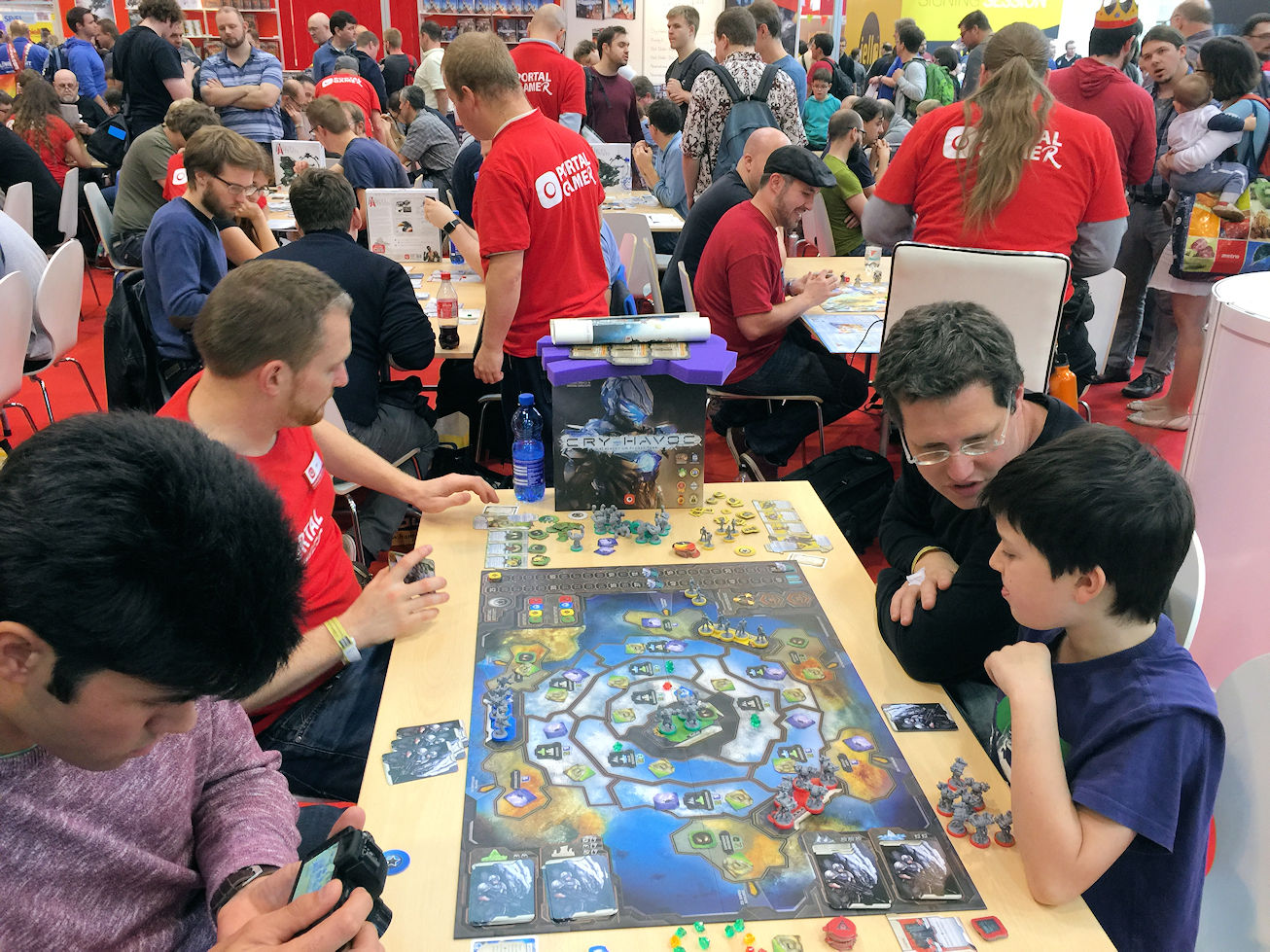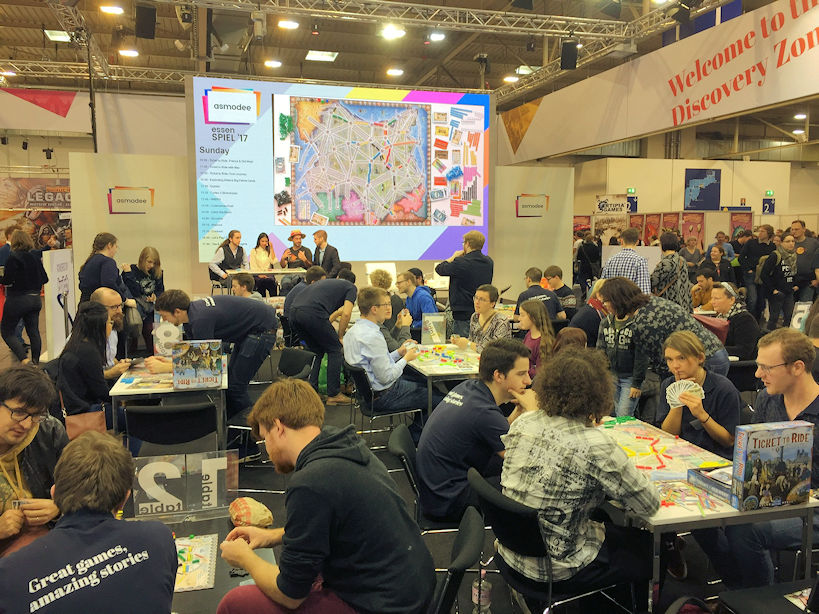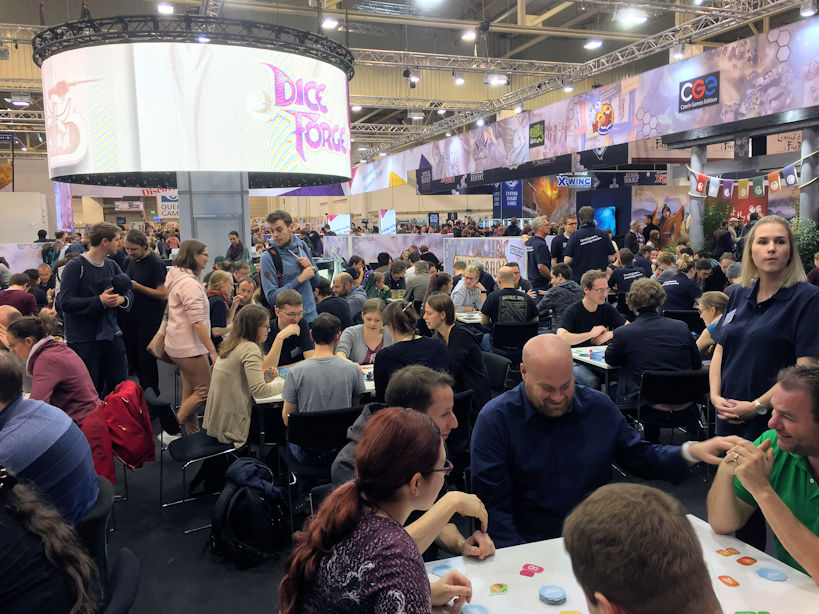 Some general views around the halls give a good impression of the frantic activity
The show ran from 10am through to 7pm daily, except for Sunday, when it all wound up at 6pm. I had expected the first day, being a Thursday, to be reletively quiet; instead, it was bedlam. I subsequently discovered that there is a rush on the first morning to secure pre-orders and special event-only extras. If I were to go again, I would choose the Friday and Saturday to attend, although all the cosplay outfits came out in strength on the Sunday, the final day of the event.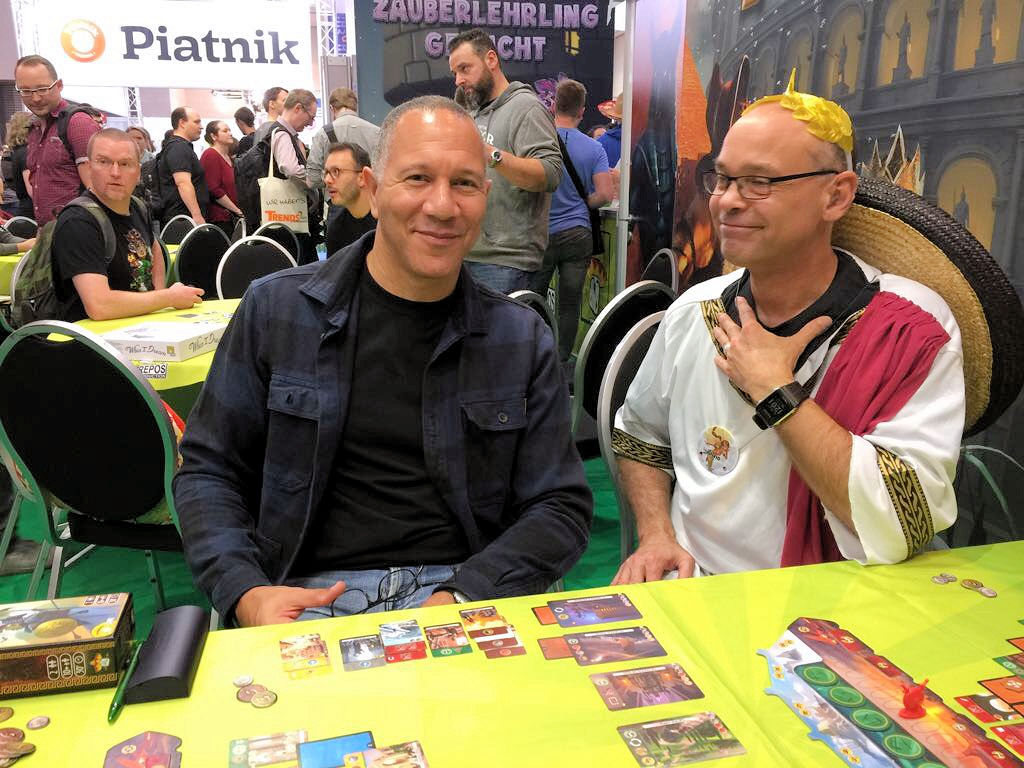 Nick and Silvio who explained the mechanics of 7 Wonders Duel to us
Nick and I played several games at the show, including 7 Wonders Duel, an excellent 2-player strategy game, and Magic Maze, a chaotic and very entertaining 4-player family game (both of which we bought) but the highlight for us both was a demo game of Phalanx's forthcoming WWII submarine game, Uboot.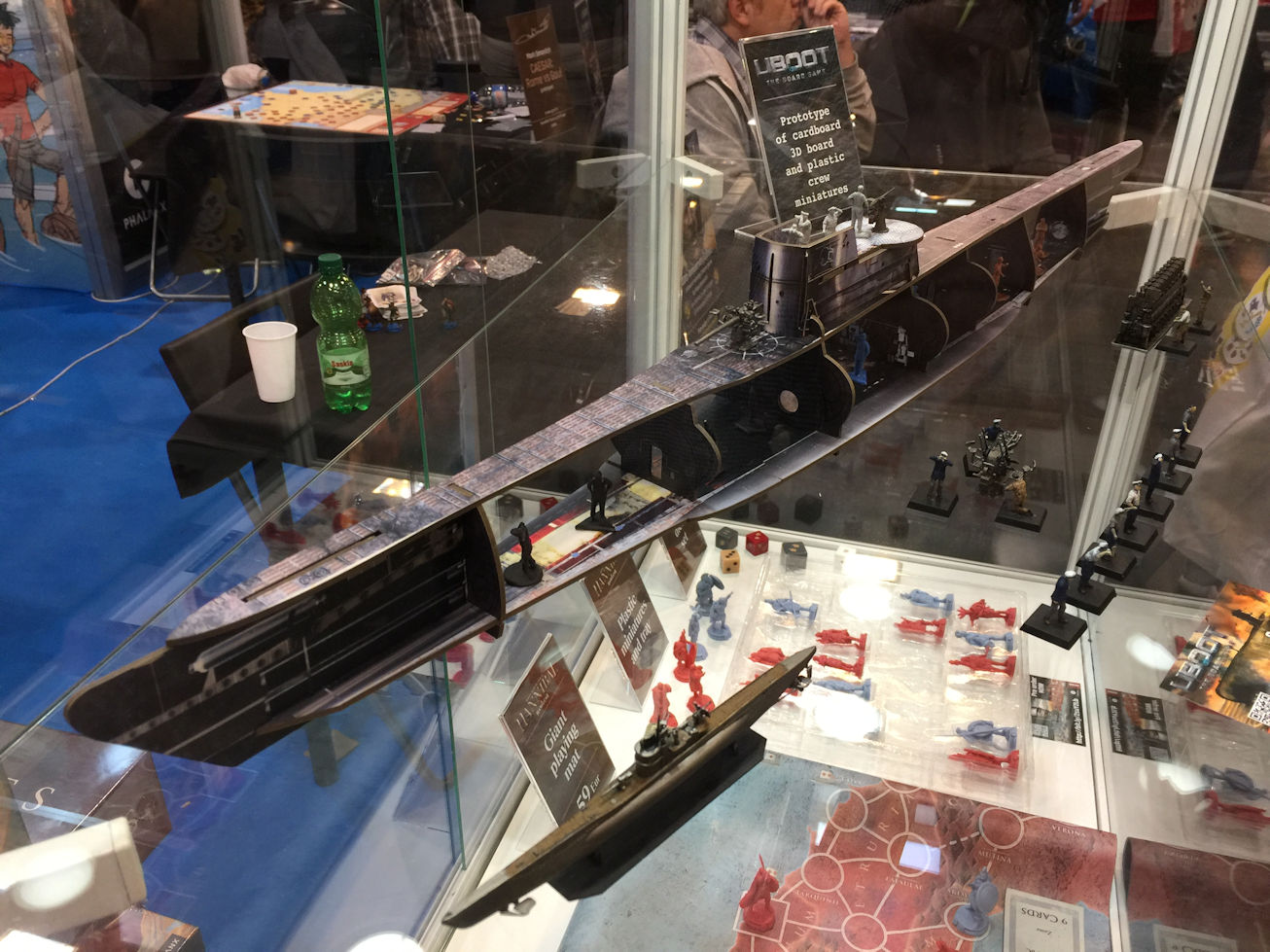 Prototype of cardboard U-boat to be included in the Uboot game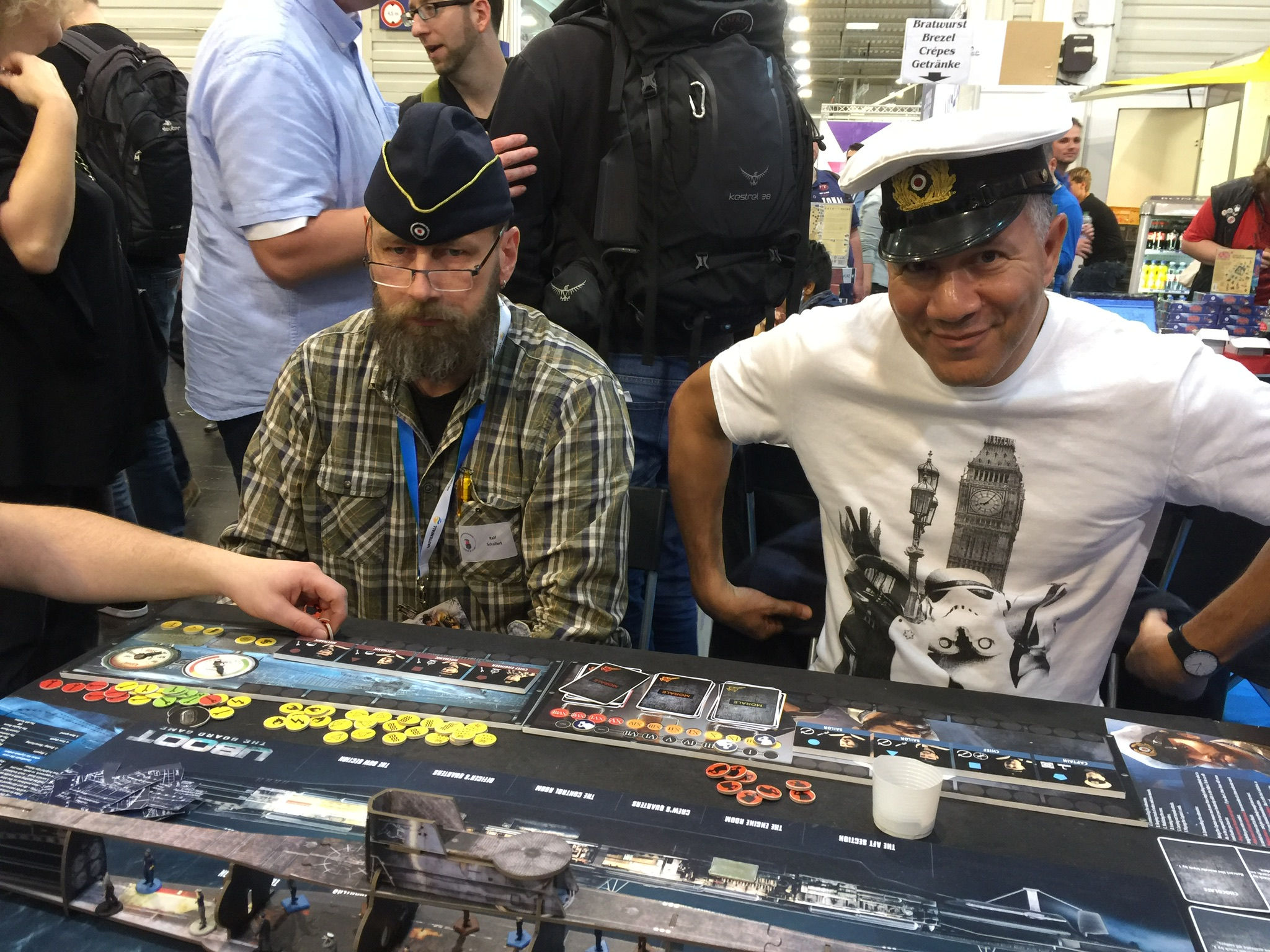 U-boat Captain Nick and Chief Engineer Ralf preparing to start the game.
I was first officer and another player took the role of Navigator
To quote their advertising, "Uboot is a fully cooperative, real-time tabletop game of WW2 submarine warfare. It allows 1 to 4 players to assume the roles of the Captain, the First Officer, the Navigator, and the Chief Engineer on board of a type VIIC U-boat. The game is enhanced by a companion app, allowing for an unprecedented level of realism, as well as a challenging enemy A.I. which will push your skills to the limit. The action unfolds both on the strategic and the tactical scale, always demanding teamwork, efficient crew management, and quick situation assessment." The game is scheduled to appear on Kickstarter by the end of the year.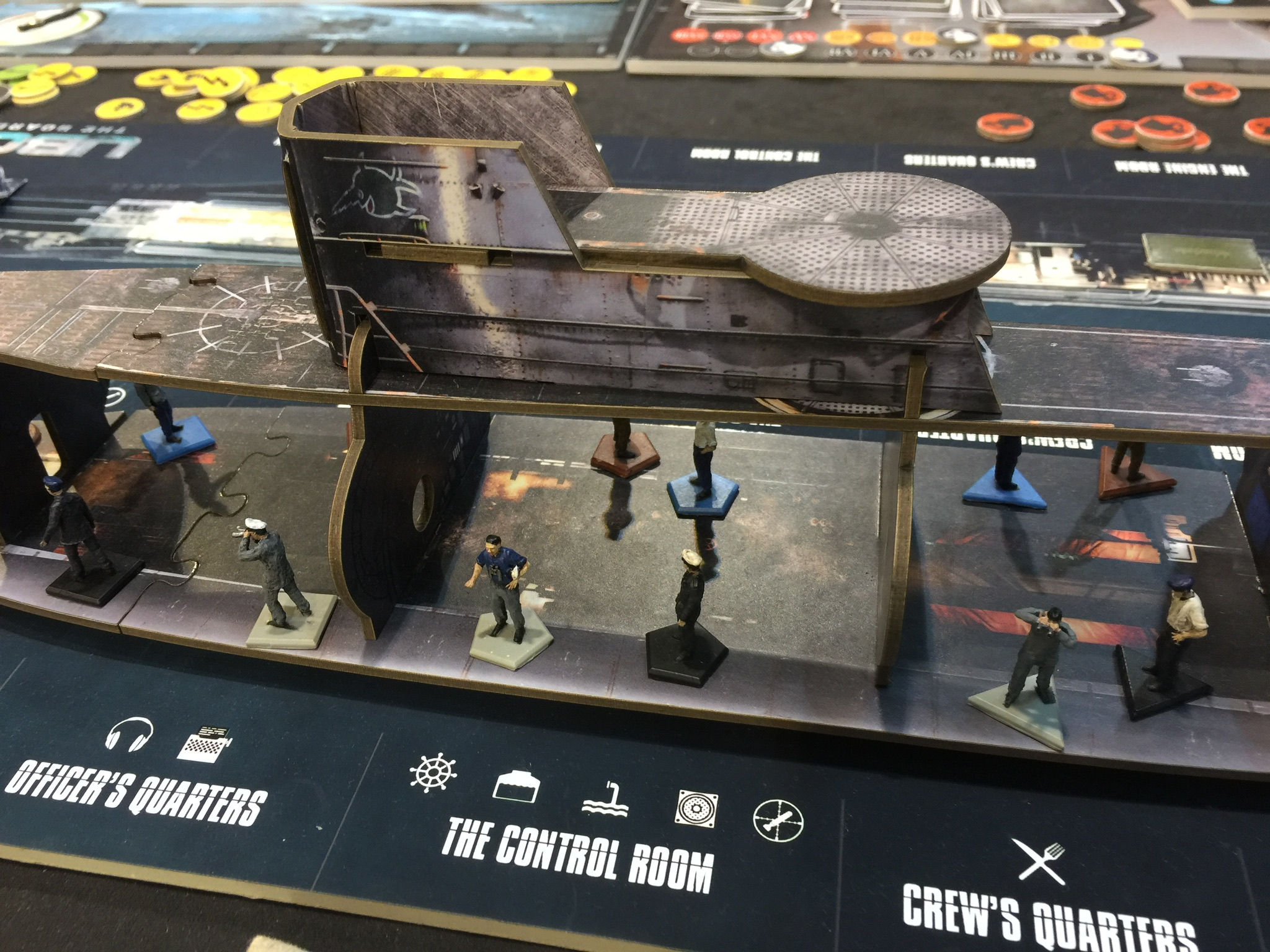 The minatures will also appear in the production version of the game
The Phalanx stand was also displaying its soon to be released game of Hannibal and Hamilcar. I had the opportunity to meet and chat with old friend, Jaro Andruszkiewicz, one of the co-owners of Phalanx, and Mark Simonitch, designer of Hannibal, among many other fine games. Mark was also demonstrating his prototype game on Caesar's campaigns in Gaul, which is based on the Hannibal system.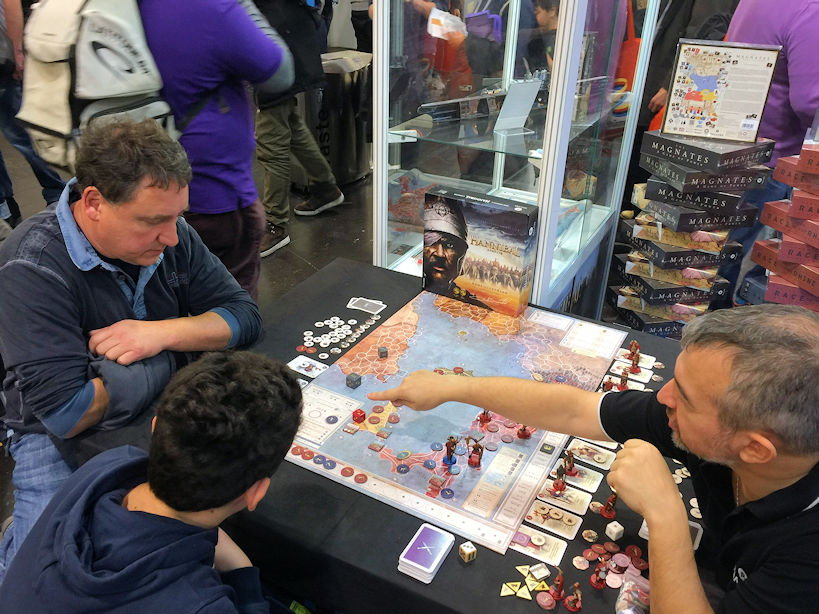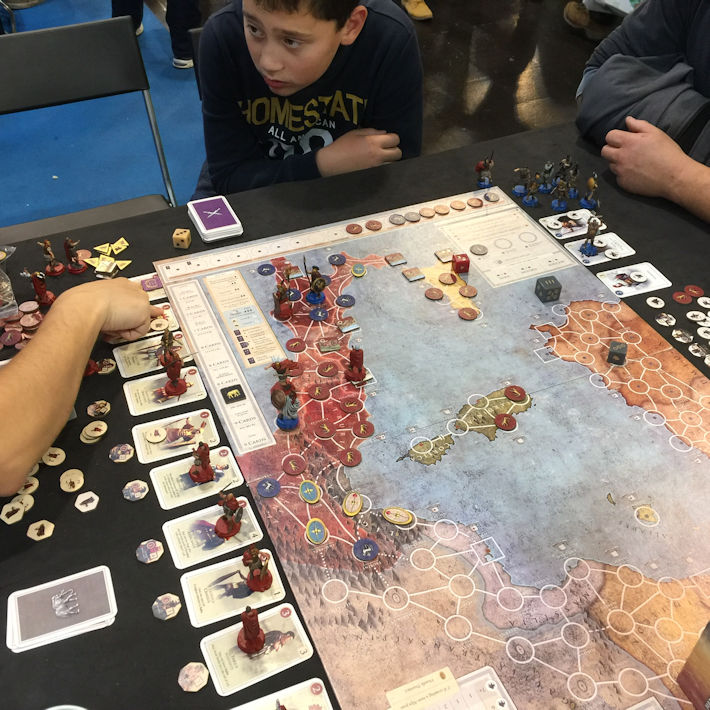 Demo of Hannibal, note the painted generals, which will appear unpainted in the published game
Other wargame companies were also well in evidence.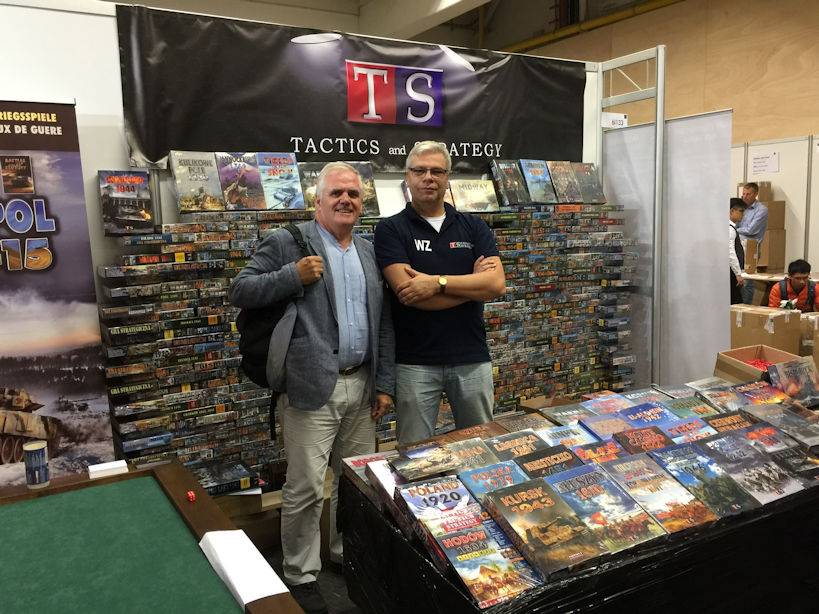 Me with Wojciech Zalewski, the owner of Polish wargame company T&S
Tactics and Strategy had a fine display of their games and books, a couple of which I picked up, together with a copy of the latest English language issue (42) of their house magazine with enclosed game, Hodów 1694.
Australian Design Group, publishers of the World in Flames series of games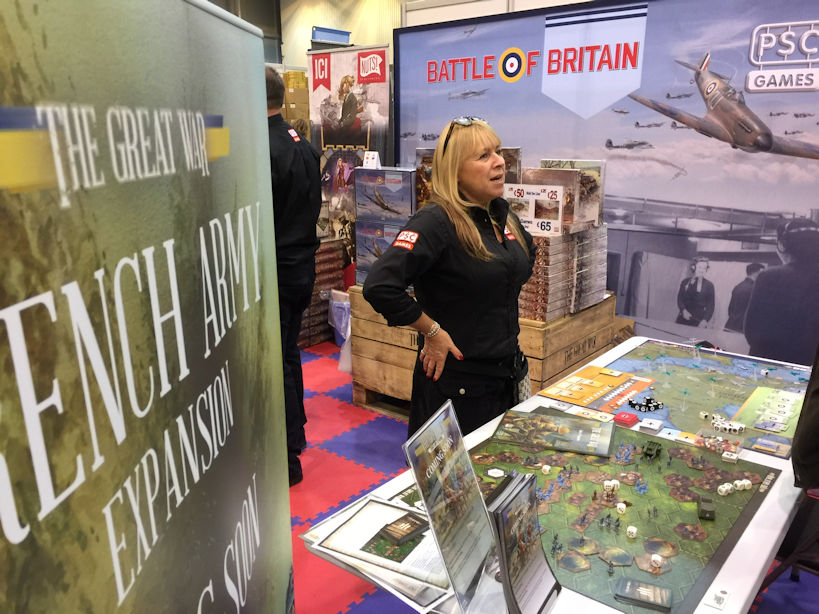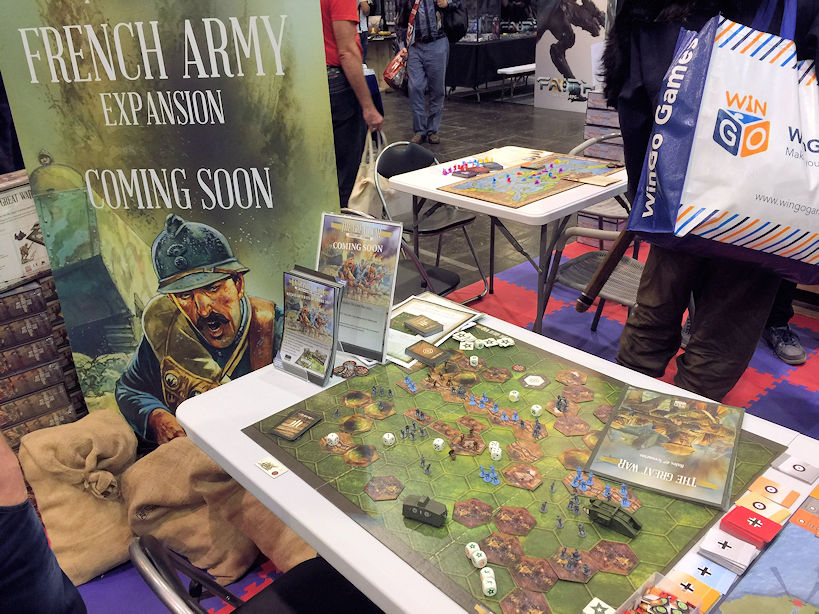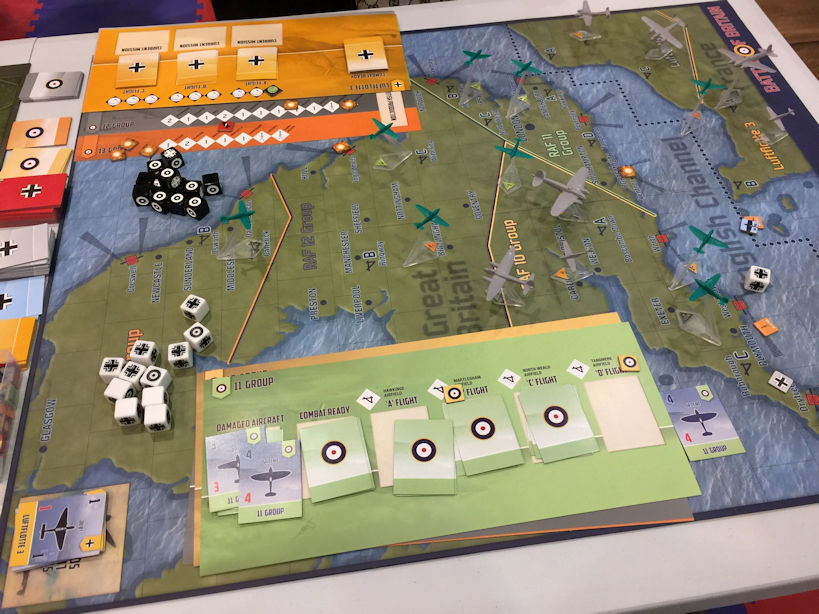 The PSC Games stand
PSC Games were showcasing their recent re-release of Richard Borg's Battle of Britain and announcing the release of the French army expansion to another Richard Borg game, The Great War. Also available at their stand were the Quartermaster General series and Hold the Line.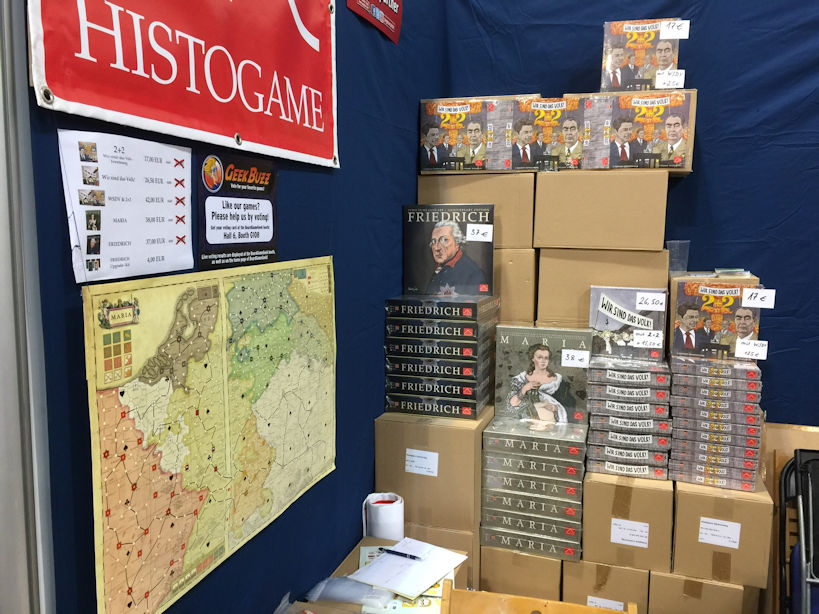 Histogames
D-Day Dice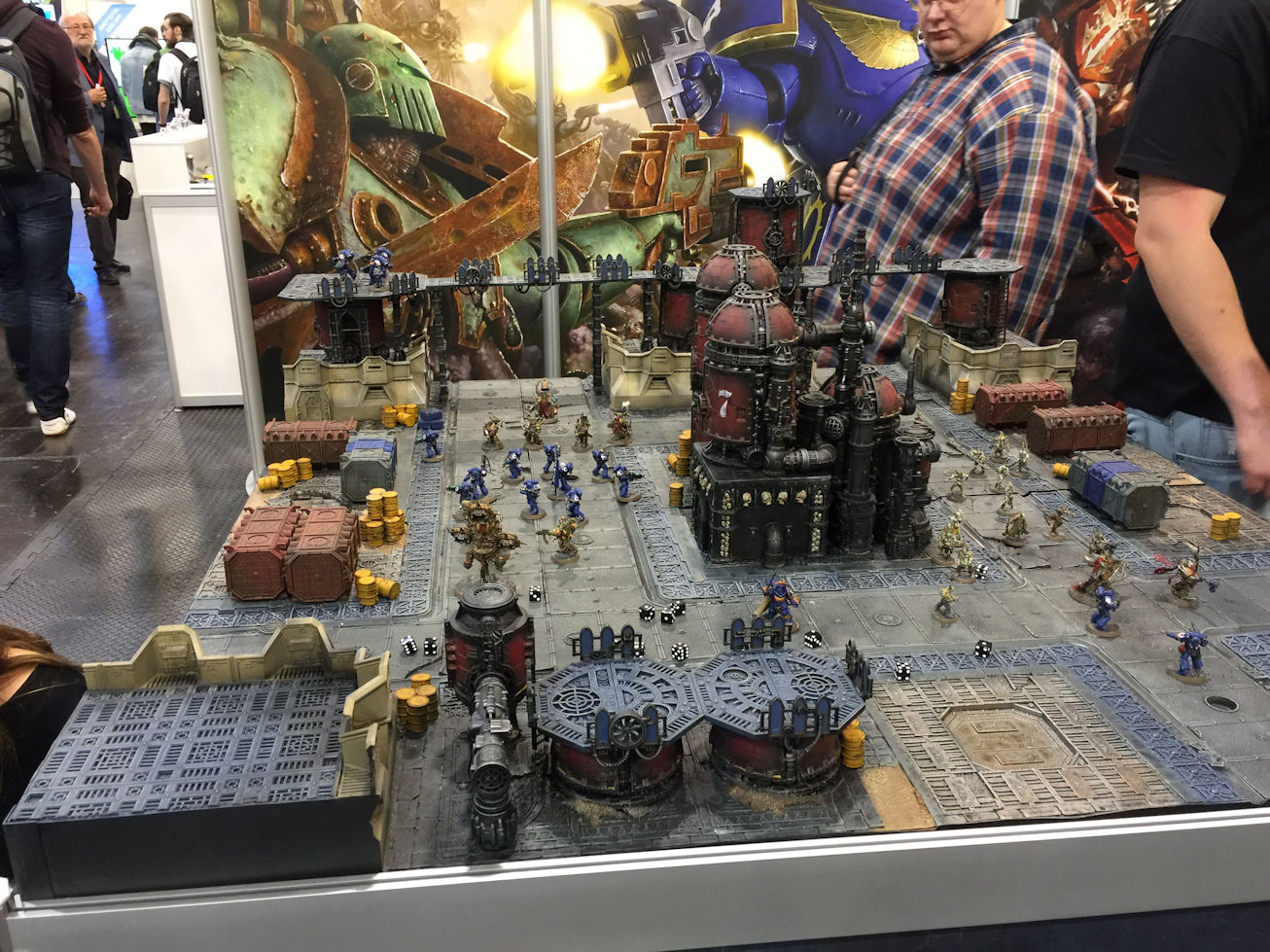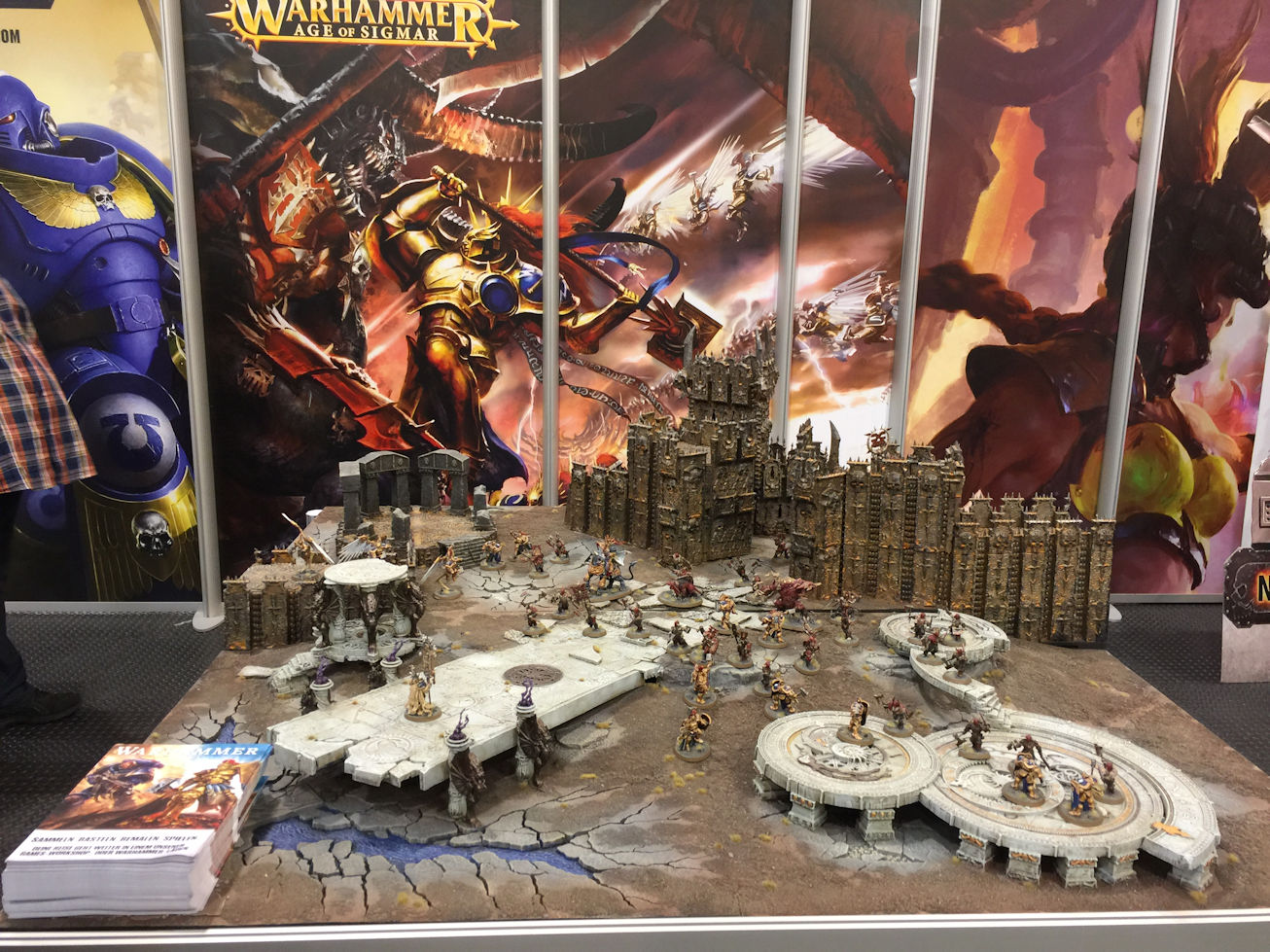 As ever, Warhammer had a large presence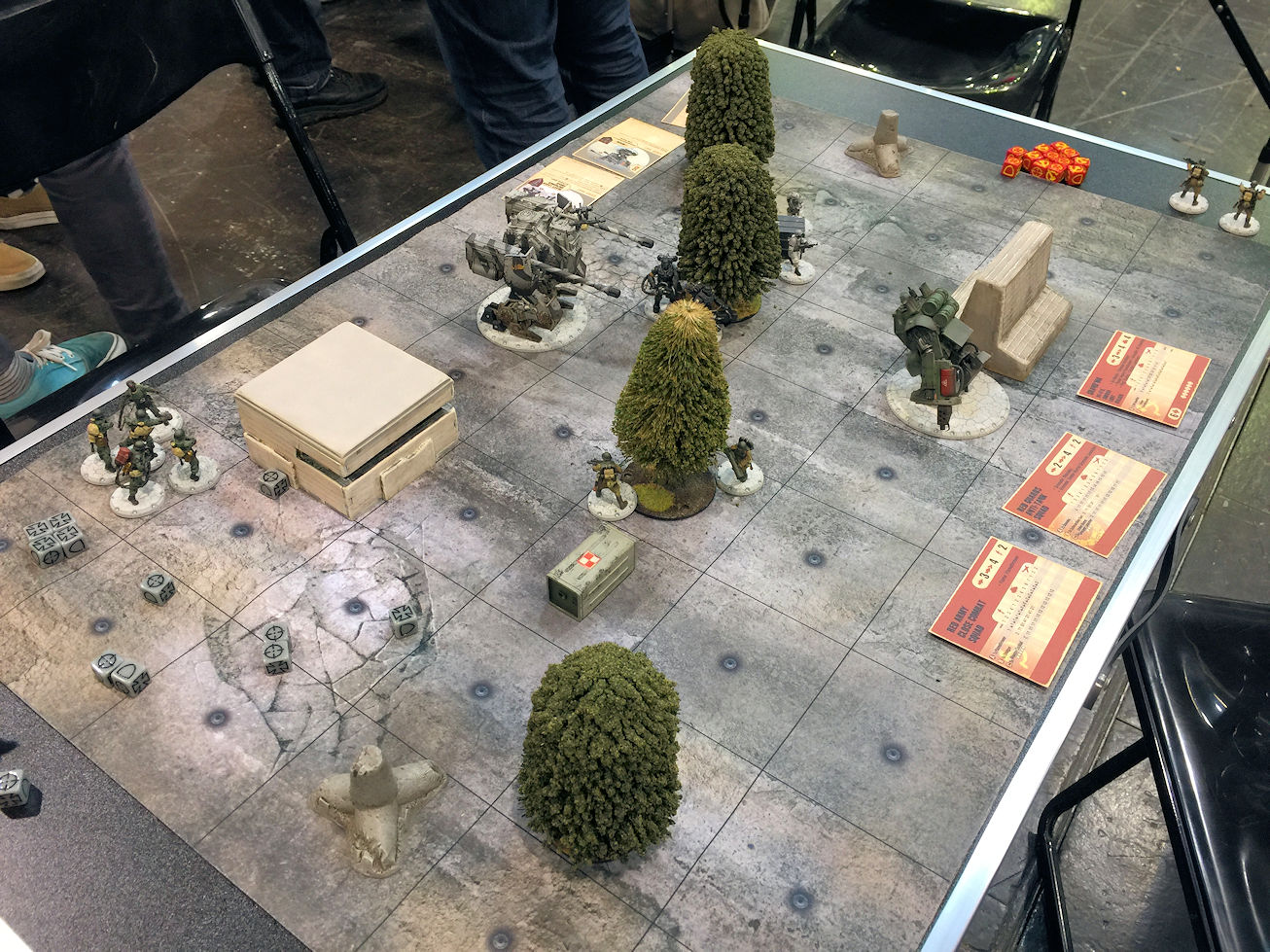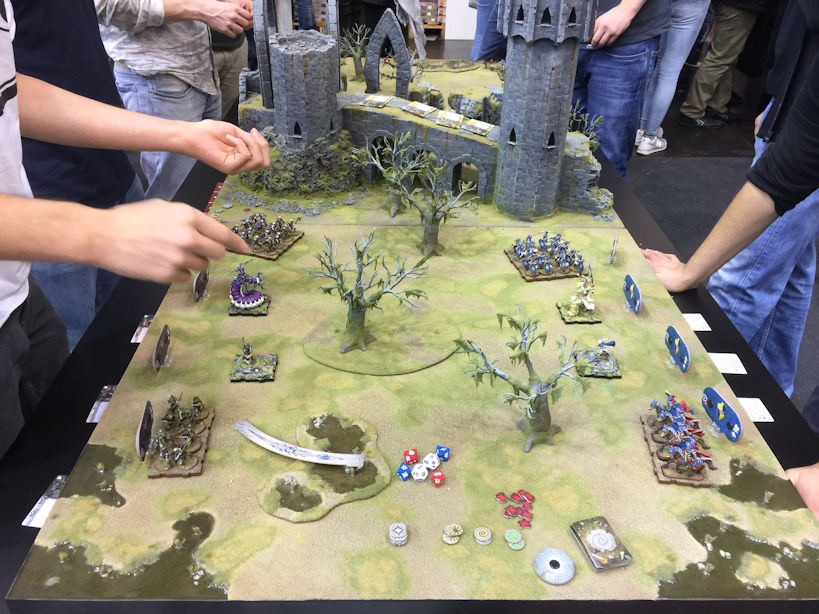 But other miniature systems were in evidence too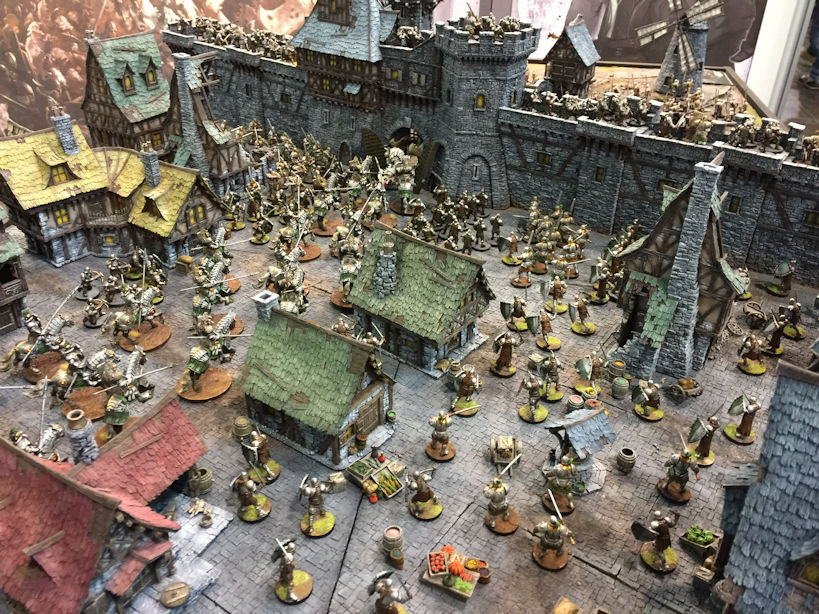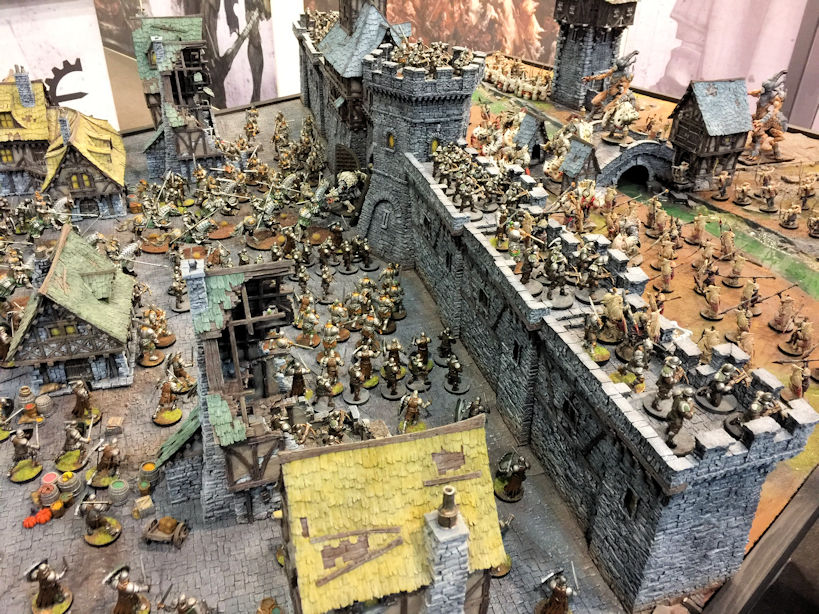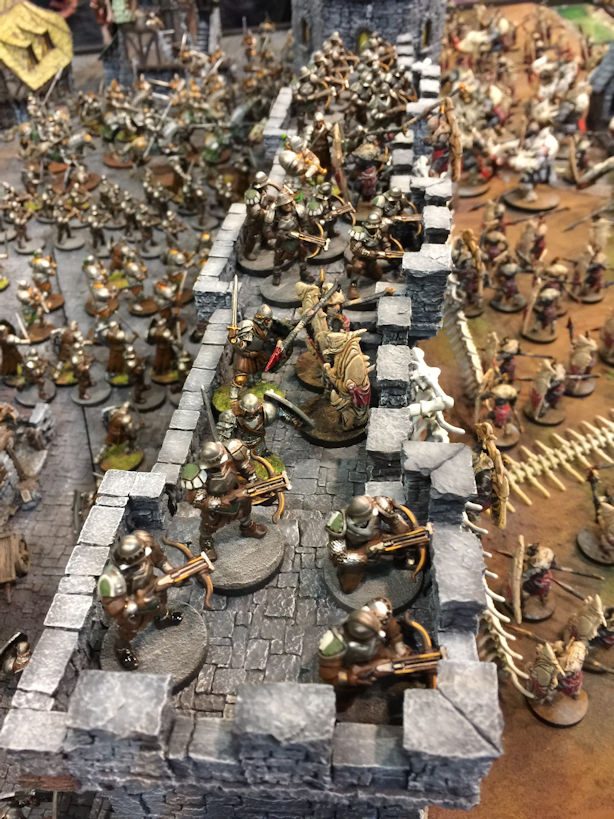 Para Bellum Wargames had a large and most impressive display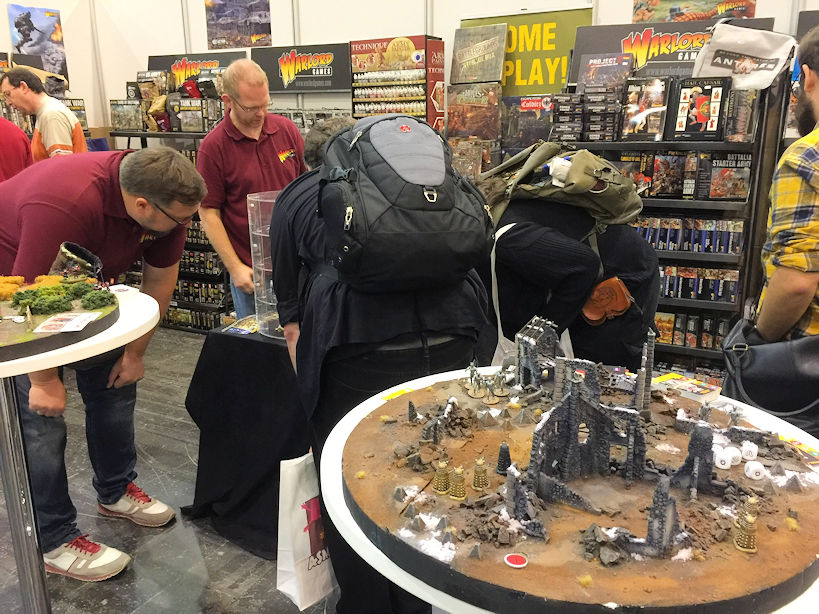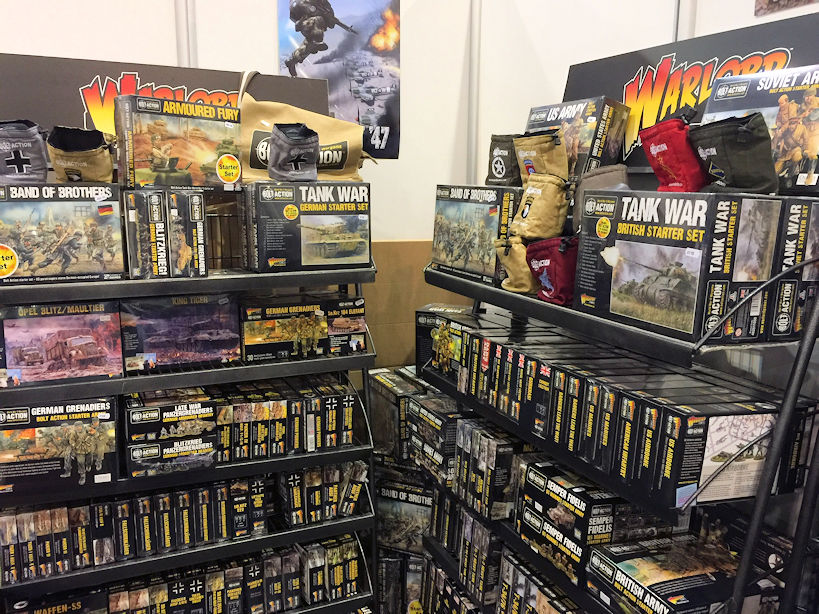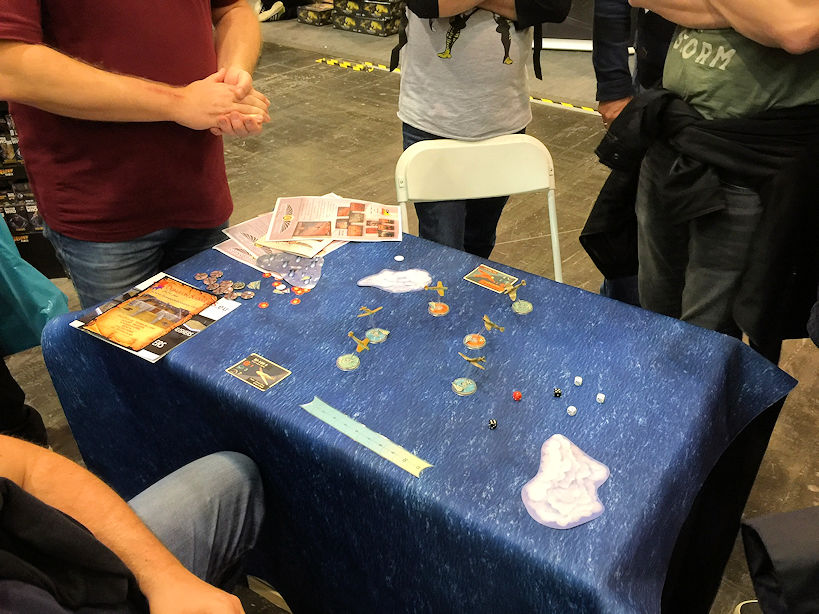 The Warlord Games stand
There were several stands selling a variety of board wargames and accessories.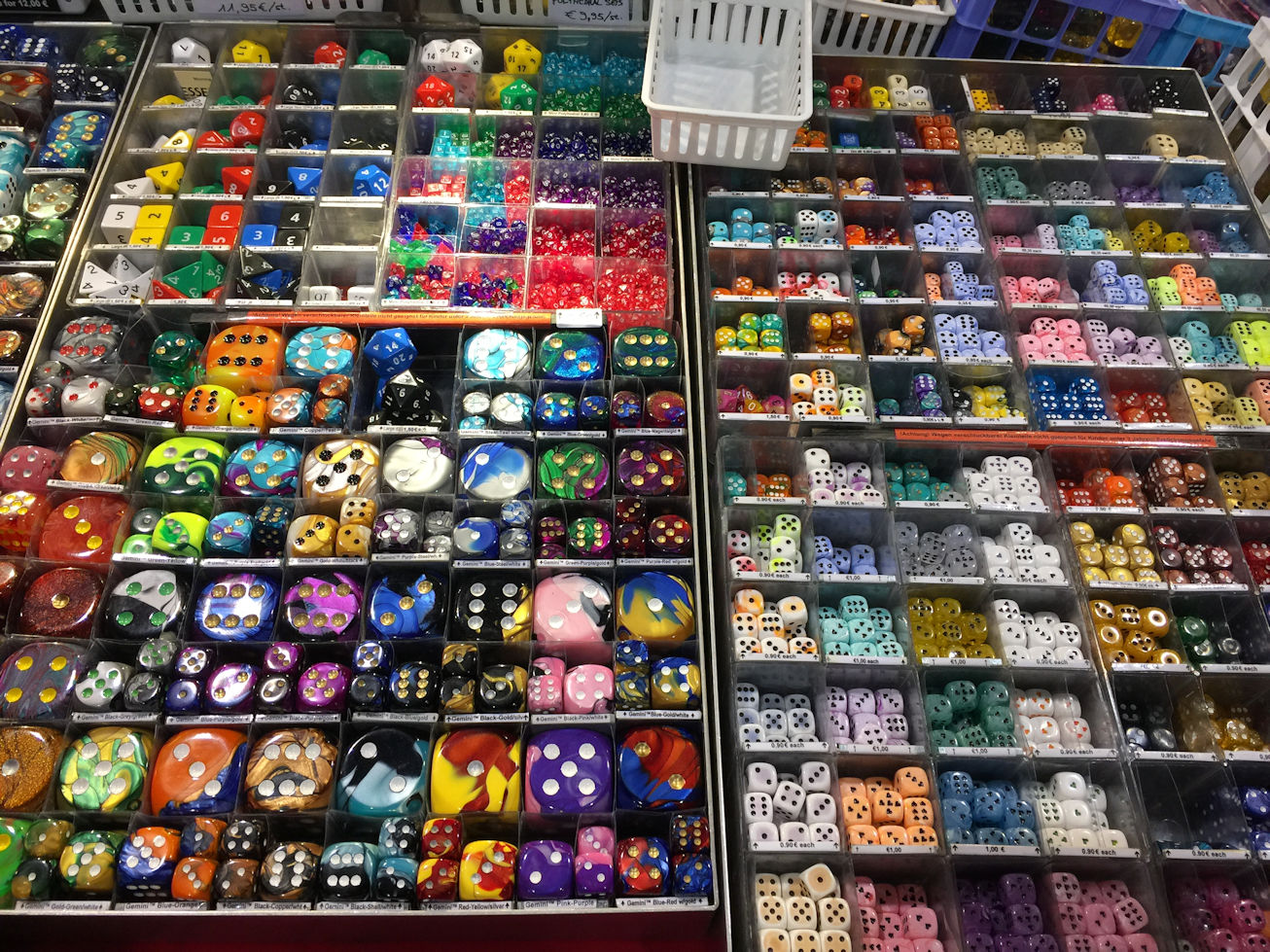 A small selection of dice at the Chessex stand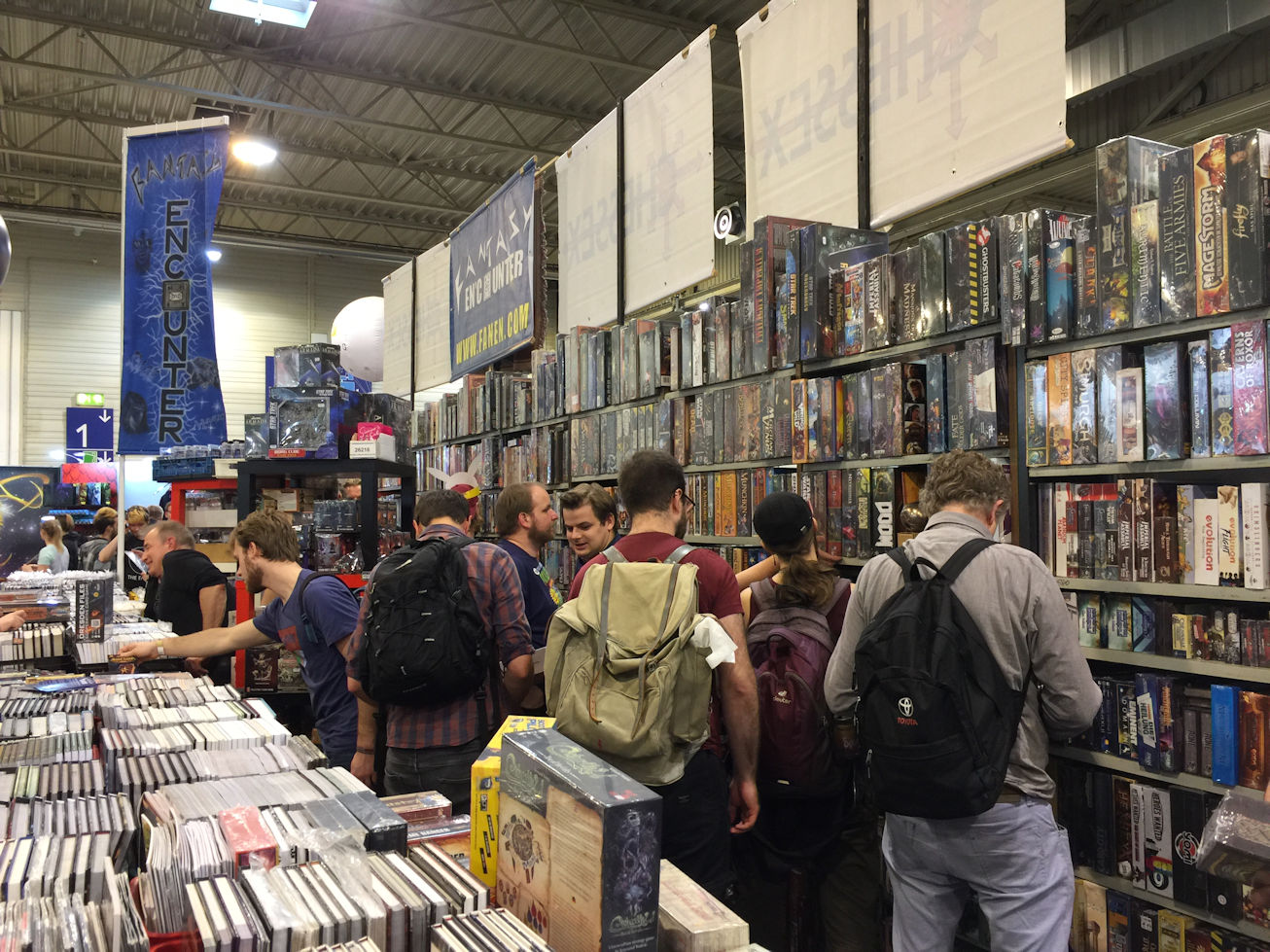 The Fantasy En'counter stand had a good selection of board wargames from various publishers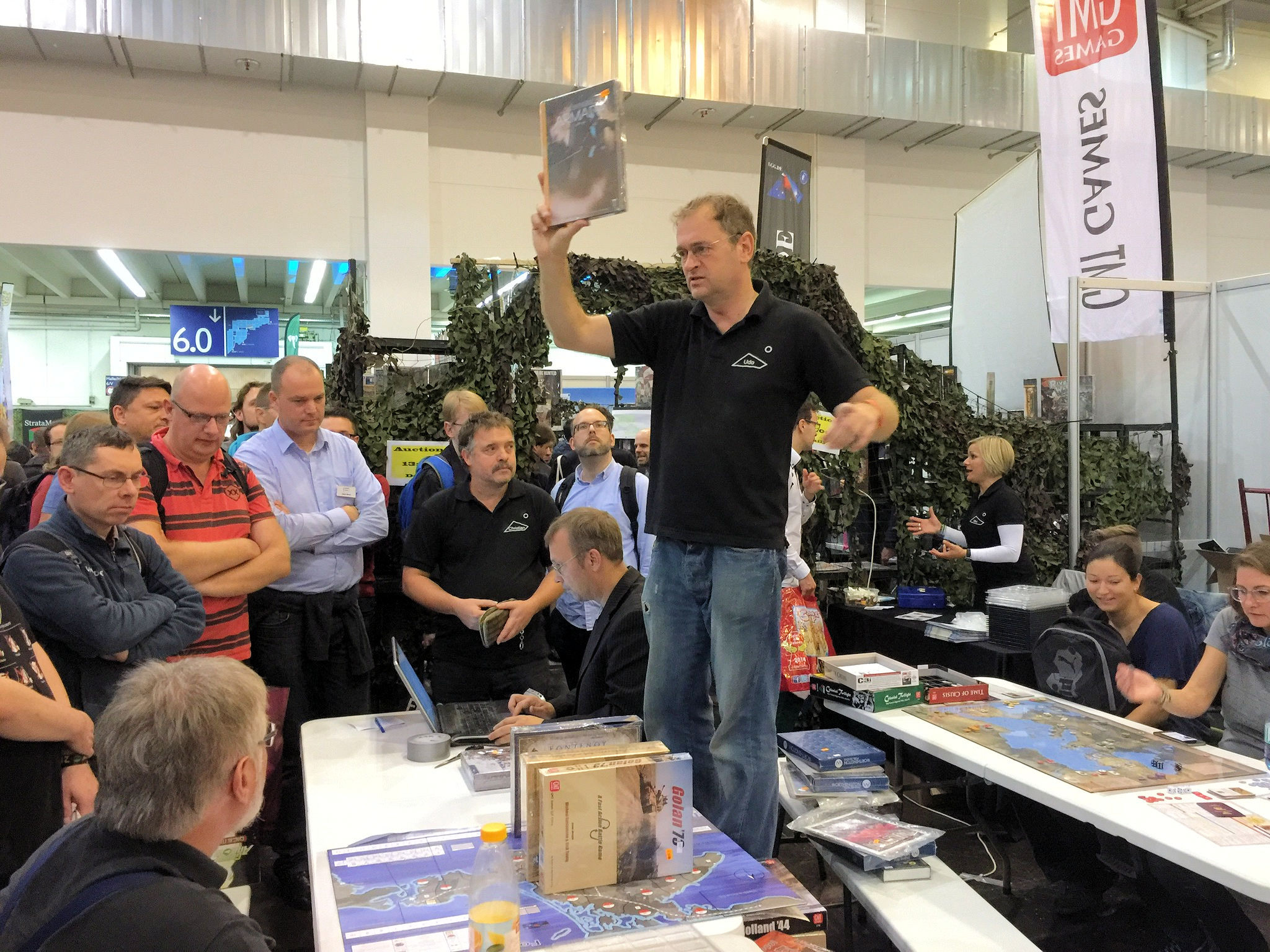 Udo Grebe, seen here at one of his daily auctions, had a large display of board wargames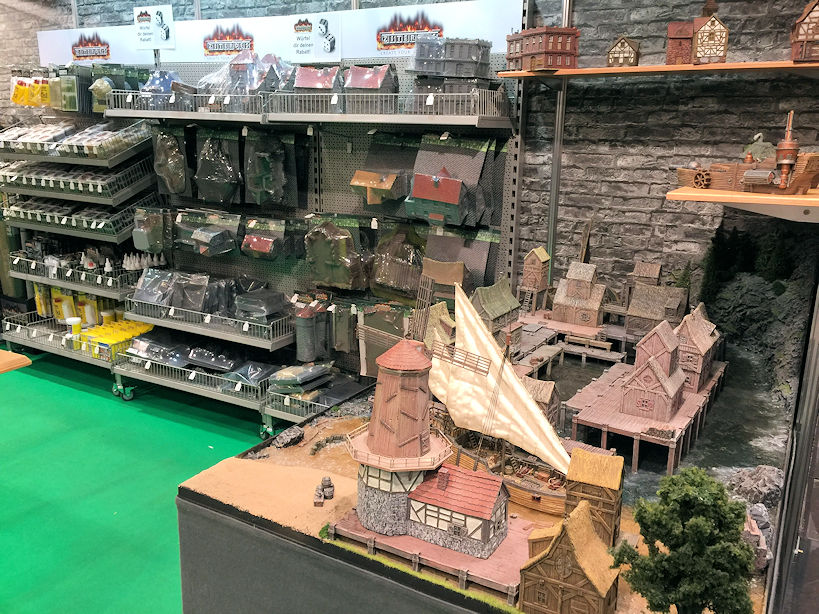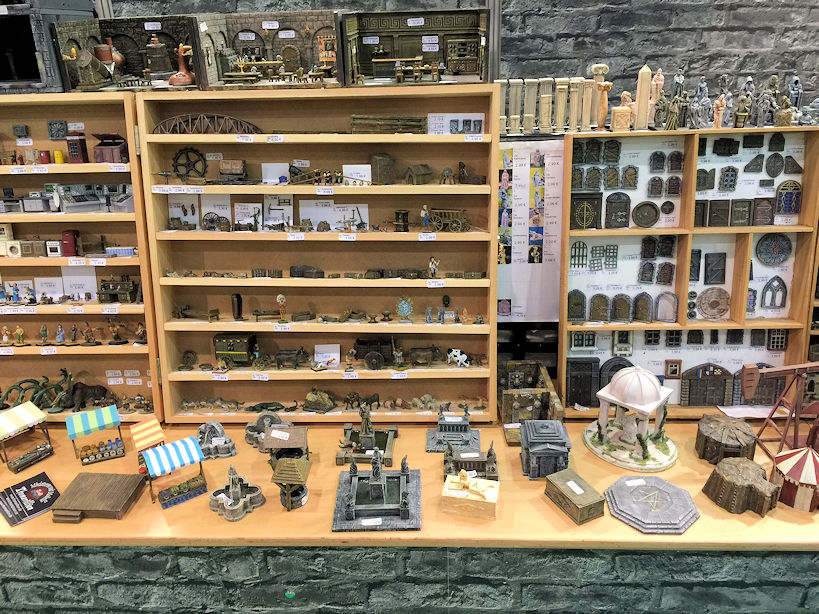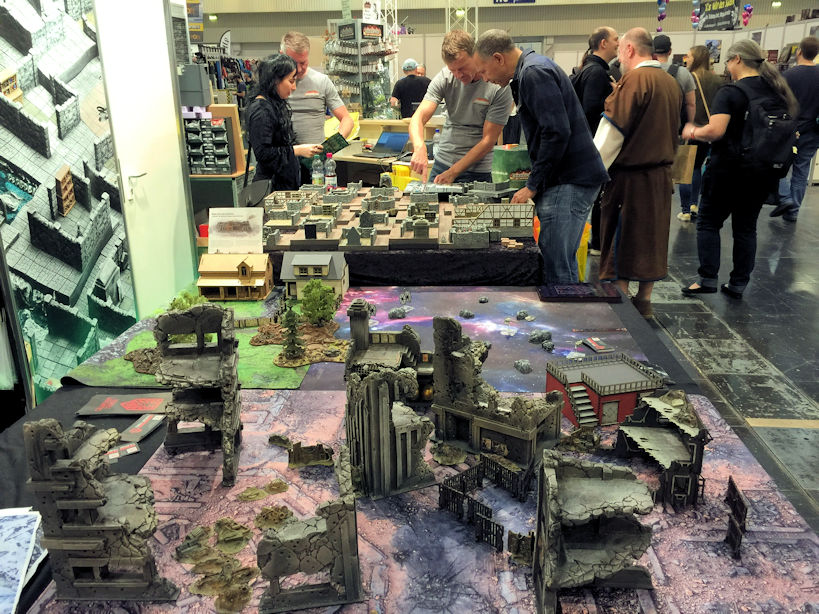 There was no shortage of building and terrain manufacturers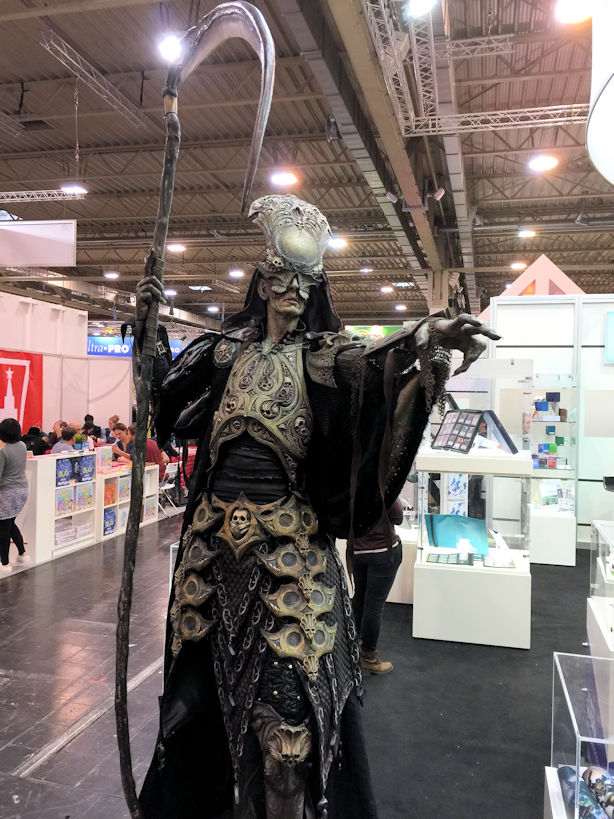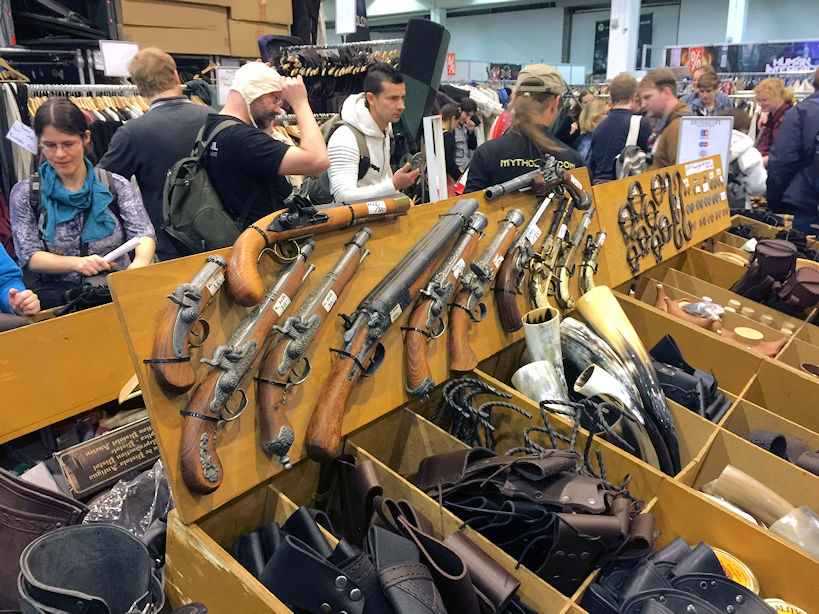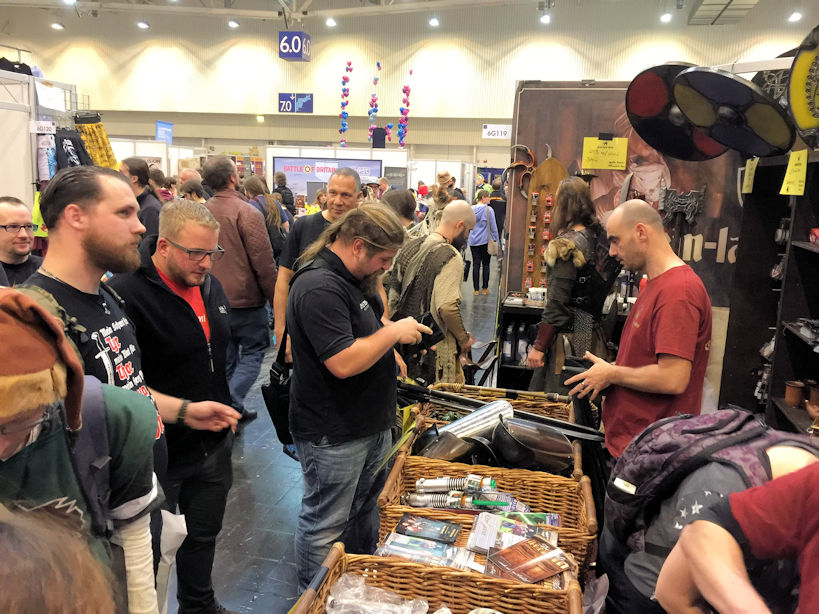 All sorts of costumes and equipment for cosplayers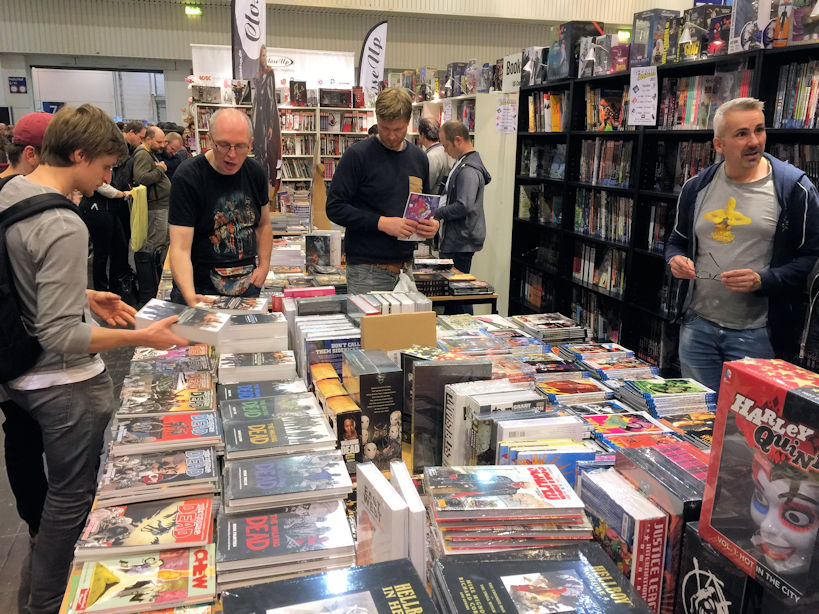 And of course, no game show would be complete without comics!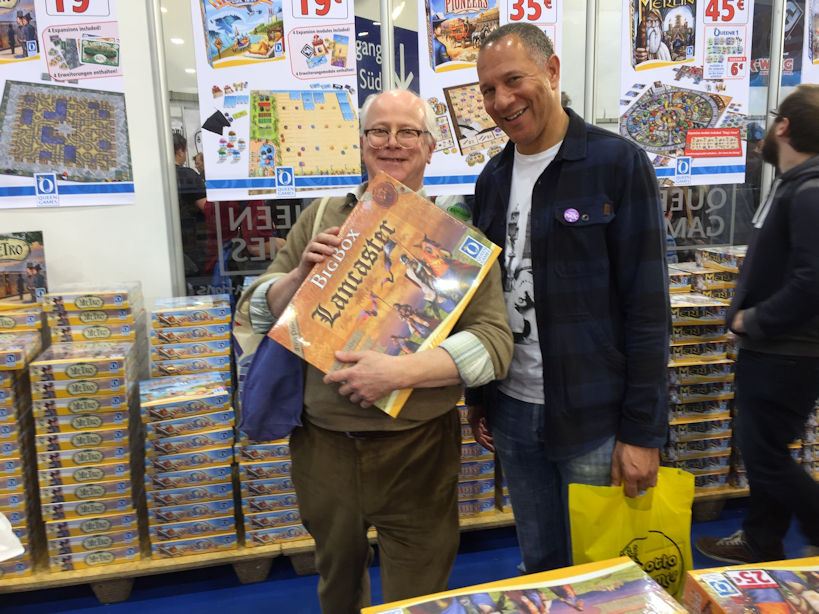 Happy shoppers!
So
was it a success? Definitely, although the four days of non-stop activity was more than enough to sate my appetite for gaming conventions for some time to come. Although, there is always the possibility of the UK Game Expo next June . . .
And how many games did I buy? I'm pleased to report, a modest eleven (and some were very small). But then, I had to fit them in my two suitcases for the plane journey home. Just as well I didn't bring my SUV!
back to expeditions