DESPATCHES
issue # 107 - Spring 1997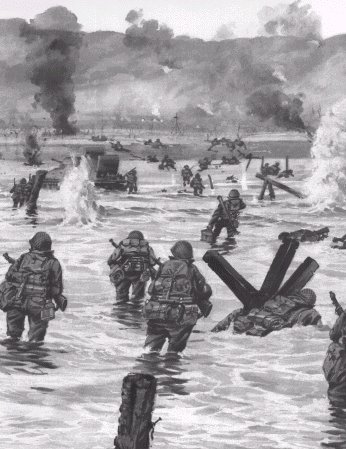 From The Editor
The theme of issue 107, as suggested by the cover, is the invasion of Normandy in June 1944. There are several excellent articles on the subject, supported by some fine contributions on topics as diverse as the Siege of Alesia and the Medieval Swiss.
The publication of this issue is timed to coincide with the AGM, which will be held at the usual venue, Devon House, on Saturday 1st March. It promises to be an entertaining day, with several competitions, a bring & buy sale and the election of the new committee (any volunteers?).
It has been a good year for the HKSW, with an active membership of over 30 who have done much to add to the success of the club, and, not least of all, this publication . . . talking of which, please keep those creative juices flowing – Despatches needs more of your contributions!
The next issue will have part two of Peter Hunt's article on his grandfather, an up-date of wargame sites on the World Wide Web, the regular columns and whatever you send me in the mean time.
The deadline for submissions for issue #108 is 15 May 1997 and these should be sent to me preferably in Microsoft Word format by e-mail to ajjc@hkstar.com or alternatively by fax to 2849 6584. Typing should, if possible, be in a single column with 1" margins. If you are providing any illustrations, please send these separately (preferably in JPEG format if in computer form, zipped if practicable).
Due to the Easter holiday, please note that the April meeting will be held on Saturday 12th, i.e. the second Saturday of the month.
This issue's cover depicts
the US 1st Infantry Division coming ashore at Omaha Beach – a detail from a panoramic watercolour by artist Harry Clow
CONTENTS
Temporary harbours at Normandy
Chris Bridges
The Siege of Alesia
Romans in the classic Gallic siege
Mike Dyer
The Medieval Swiss at War
The tough guys from the Alps
Bill McIntyre
New Rules for Medieval Wargaming
"God, Wealth & Honour" reviewed
Dennis Leventhal
Reflections on five books
Michael Withington
Punic Naval Warfare
Rome and Carthage all at sea
Ludovic Dias
17 Pounder Anti-Tank Gun
An anti-tank gun and a half
Chris Bridges
DBM Ladder Competition
The initial draw
Bob Champion
Overboard
A review of three wargame magazines
Andrzej Cierpicki
Part one of a two part article
Peter Hunt
The invasion of Normandy 1944
Joe Weiss
The History of the English Language
A humorous perspective
Bruce Meyer