AGM - Saturday 22 June 2019, noon till 8pm, 6/F Senior Officers' Mess, Police HQ

Postponed!
The 38th Annual General Meeting:
Programme (with approximate times) is as follows:

Registration (12:30, some of the competition games can be set up and start playing)

Curry lunch (1:00 pm) AGM (1:45 pm) Taking Group Photos and Trophy Presentation (2:05pm) Game Set-up and Annual auction (2:15pm) Competitions will run thereafter.


Preliminary Agenda for the AGM:

1. Report by individual Members of the Committee.

2. Approval of books and accounts presented by the Treasurer (see Appendix A for the details of accounts attached).

3. Review and approval of annual subscription and door fee for monthly meeting for the coming year.

4. Any other business.

5. Election of new committee.

Note: Members are advised to clear and move the tables after the Buffet Lunch themselves should they need the table for games.


Curry Lunch Booking

Please let us know whether you are coming or not on or before 6/6/2019. The Buffet will be served to those who reserve a place first and those who have not booked in advance will have to wait to see if there are available place for them.


Auction News

There will be some donated games to be auctioned off at the AGM to raise funds for the Society.

(1) Donated Board Wargames from Aris Aravantinos

(2) Donated Board Wargames from Andrzej Cierpicki

(3) 50% sales proceeds of donated Board Wargames from Sam Tang

(4) Donated Magazine games from Peter Hunt

These are the items we are going to sell at HKSW AGM. Should you be interested to buy it, please let us know. The minimum starting bid price is HKD50. We shall bring the item to this year's HKSW AGM if someone is interested in it. If you are not going to be at our AGM this year and want to buy it, please pm
Lawrence
Ho
.
Basic rules of the auction.

You can also bring items to be auctioned at the AGM. From past experience, the final selling price of stuff sold at HKSW auction is lower than that selling at eBay.

Firstly, you have to list your reserve price (minimum price)

Secondly, it is natural to sell things related to history, wargames, boardgames, fantasy, etc. as we are a Society of wargamers.

Thirdly, if you want to attract members interest, you can send me a list of your stuff with the reserve price so that I can send them to the members before AGM.

Fourthly, you can sell the stuff at listed price without going through the auction procedures on that day on a first come first serve or discretionary basis or you can have them sell at the auction. It's up to you.

Finally, you are responsible to dispose of all your unsold items. The Society will return them to you on that day if they are unsold.

I suggest you have some ten dollars and twenty dollar notes readily available as change.


Competitions

PROPOSED COMPETITIONS TO BE HELD OR KICK OFF AT AGM, please let us know if you are interested in joining.

Participants: Neil Burnett, Tony Mathews, Sam Kwan, Andrew Lam, Matthew Sexton, Hermann Ng, Lawrence Ho, Tom Tong, Chris Doran, Joon Nak Choi

Participants: possibly Li Tai Wah, Anthony Leung, Lurk Cheung, Sam Sham, Erwin Lau, Gerry Wong, Victor Law, Ted Kwong, Alex Bao,

Participants: Lawrence Hung, David White, Rowan Hunter, Jimmy Chau, Angus Lee's friend, Angus Lee


Trophies for the Competitions

The objective of the competitions is not to determine who is the best player, but for our members to get together to play friendly games with each other for fun without too much stress. As an encouragement to competition participation, a trophy will be awarded to the Winner of each competition (if there are 6 or more participants). Additional trophies for Runners-Up may be awarded if there is a sponsor for the competition.

Members can participate in more than one competition in this year, though only one trophy will be awarded in case he wins more than one competition. Of course, we shall indicate his achievements by choosing the right wordings to be inscribed on his trophy where applicable.


Trophy presentation Ceremony of HKSW 2018/2019 Competitions:

Winner: Li Tai Wah, 1st Runner-Up: Victor Law, 2nd Runner-Up: Lurk Cheung, 3rd Runner-Up: Sam Sham,

Winner: Himson Lam, 1st Runner-Up: Henry Yan, Best Newcomer: To Cheuk-Hay


TRAVELLING INFORMATION

Senior Police Officers' Mess, Caine House, Arsenal Street , Wanchai (6/F of the old building)

Please find the
hyperlink
to a map showing the location.
Upon arriving at the entrance (i.e. open car park) of Caine House, there is a small guard house, you are required to register as a visitor to the Police facilities, tell the guard that you are visitor to the Hong Kong Society of Wargamers. He will ask you for your ID card (passport) to write down your name and ID no. and then he will give you a pass. Go straight ahead to the main entrance of the building, turn left, there are two elevators. press 6. After leaving turn left, walk straight ahead and turn left again. Walk straight ahead and you will arrive at the sitting room and then go through the entrance, you will arrive at the Mess and find us.
The following non-competition games are also scheduled for the day:
| | |
| --- | --- |
| | |
| * | Battletech (Organiser: Leo Wong) |
| | Participants: Cheung Kar Fai, Leo Wong & Kenneth Ho |
| * | Star Wars X-Wing (Organiser: James Cheung) |
| | Participants: James Cheung, Jeroen van den Berg and possibly others |
| * | Pendragon (Organiser: Erwin Lau |
| | Participants: Erwin Lau, Chan Kai Biu, Pash Chan & Steven Ho |
| * | A World at War (Organiser: Tom Alaerts) |
| | Participants: Lai Lap Wan & Tom Alaerts |
| | |
If you don't have a confirmed game, come along anyway, and a spot will be found for you in whatever is going on. We are currently short of miniatures game organisers, so if you are miniatures wargamers and are looking for a game, try to let Lawrence Ho know what armies you are willing to bring to the meeting in advance and what rules system you want to play so that we can try to let other members of like interest know in advance.
---
Check the following links for the HKSW presence on Facebook and

Board Game Geek

.

---
Saturday 25 May 2019
The Meeting
DBMM 120 Competition
Gundam Tactical Combat
Folklore
Star Wars Imperial Assault
Star Wars: Destiny
The Scarlet Pimpernel
Decision Iraq
Togo

Guadalcanal Iron Bottom Sound 1942

---

Saturday 4 May 2019
The Meeting
Napoleon: The Waterloo Campaign 1815
Star Wars Imperial Assault Tournament 2019
DBMM
DBMM
DBMM
DBMM

---

Saturday 27 April 2019
The Meeting
VOTOMS Tactics
Glorantha: The Gods War
Axis of Evil II: War on the Southern Axis
Gundam
Star Wars Imperial Assault
DBMM
DBMM

---

Saturday 6 April 2019
The Meeting
Star Wars Imperial Assault
A G

ame of Thrones

Hannibal & Hamilcar
Battletech
DBMM
DBMM
DBMM
DBMM

---
2014
2013
---
After Action Reports from Past Meetings
---
We were in the news again in the now defunct Australian bi-monthly magazine Broadsword, issue 10 of which carried an illustrated in depth introduction to HKSW. They also reprinted a couple of articles from old issues of Despatches. Jeff Herbert and Michael Withington, fame (if not fortune) await you; your articles, respectively, on the "Successors" and "Wargaming Blitzkrieg" were continued in issues 11 and 13.
We also made the press in issue 528 of HK magazine, which ran an article on the offbeat clubs of Hong Kong. We rubbed shoulders with the likes of the Condoms of the Month Club (the mind boggles) and the Hong Kong Laughter Club (if they want a real laugh, they should come along to one of our club meetings). We weren't shed in too bad a light, although needless to say, they got some of the facts wrong. Read the full report here.

As most of you will already know, we made it into the pages of the South China Morning Post. You can read the full article by clicking on the image of the page on the right. Whilst not entirely accurate, it has not done us any disservice, as we have had several approaches by potential members since its publication. We were as a result asked to stage a two-day event at Cyber Port in mid-April 2007. Such is the power of the press . . .
As a consequence, HKSW's first ever war and strategy game show was staged at Cyberport on the weekend of 21/22 April 2007.
Another magazine to feature an article on the HKSW is the Japanese wargaming publication "Command". See what they said here.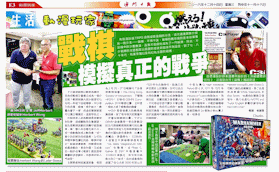 The latest publication with a feature on the HKSW, the "Macao Daily News", wrote about the 2016 HKSW De Bellis Magistrorum Militum (DBMM) competition. The article attempts to introduce miniature wargaming to its readers and explains the misconceptions about wargaming generally held by the public. The report explains that the HKSW is an organisation that promotes wargaming in Hong Kong and, in addition to hosting regular meetings twice per month, holds competitions annually. In Hong Kong, DBMM is the most popular miniature wargame system simulating ancient battles and this year's competition successfully attracted many participating players from overseas, including from Thailand, Taiwan and New Zealand. The link to the article on the Macao Daily News website can be found here.
---
What's New in 2019
If the following pages do not appear to have been updated when viewed, hold the Ctrl key and hit the refresh button, that will ensure the page is loaded from the web site rather than your cache.
| | |
| --- | --- |
| 23 May | Lawrence Hung's review of the third Edition of the board game, Game of Thrones added to the |
| 27 April | Membership updated - 89 members |
| 6 April | Membership updated - 88 members |
| 9 March | Membership updated - 87 members |
| 14 February | Lawrence Hung's capsule review of GMT's three-player WWII game Triumph & Tragedy added to the WW II page |
| 4 February | Membership updated - 86 members |
| 23 January | Peter Hunt's rules changes to The Plastic Soldier Company's board game: "Battle of Britain" added to the WW II page |
| 8 January | Membership updated - 84 members |
the what's new archive